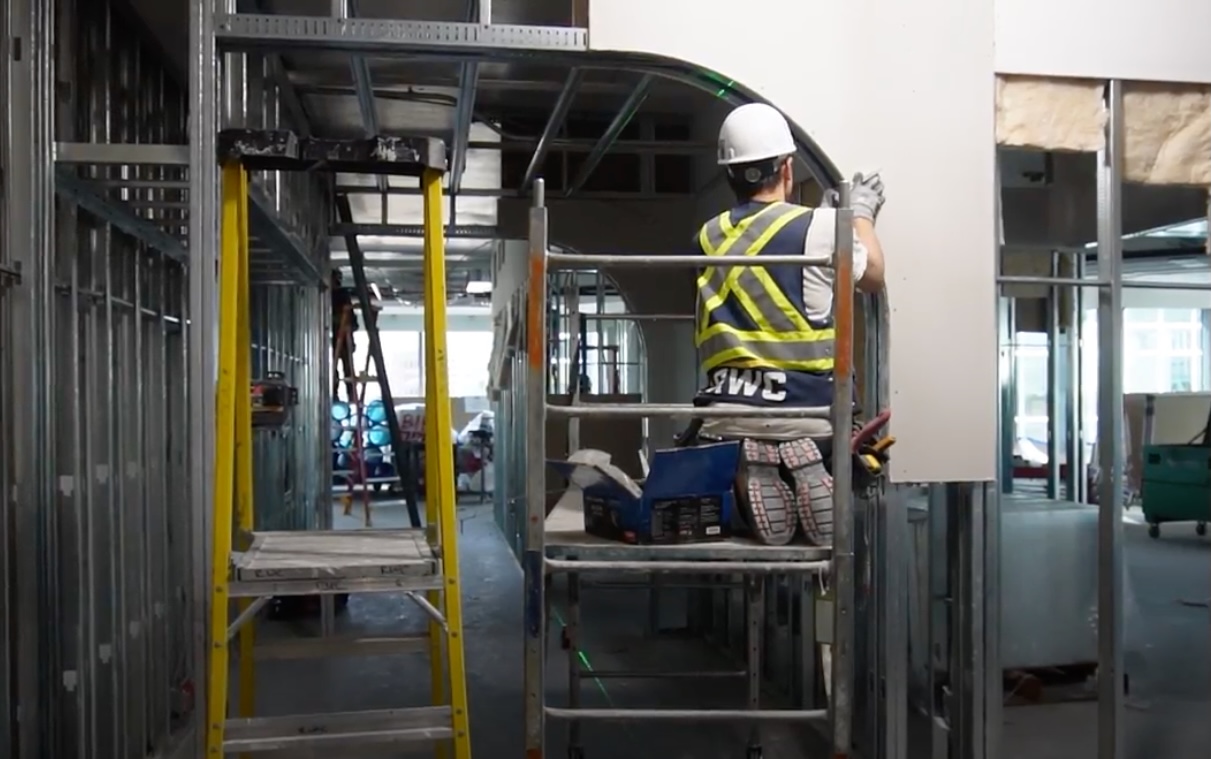 The YVR 21 project is one of our larger office and workspace projects to date, and we are proud to provide you with an update on the progress.
RWC was asked to complete the construction of the walls and ceilings for the new office of a large software and e-commerce firm. RWC Systems is directly responsible for the installation of acoustic ceilings, t-bar ceilings, steel studs, drywall, and specialty walls.
The uniqueness of the YVR21 project is the setting, as the project is nested within another one of our projects, "The Post". "The Post" is a mid-century landmark that has undergone a significant transformation to include two modern sister towers.
The combination of old and new infrastructure presented unique challenges that we had to overcome. Working within a heritage building has required us to navigate existing structural infrastructure, a challenge that is unique to working within a heritage building. But, as with all challenges, it has offered an opportunity for innovation.
This project relied heavily on the use of Building Information Modelling (BIM). With BIM, we have been able to create a detailed 3D model of the building and conduct a "clash detection" analysis. This process identifies potential conflicts between our work and that of other trades, allowing us to mitigate issues before they arise and ensure a smooth construction process.
Our mission has always been to deliver excellence in wall and ceiling installation, and YVR 21 is no exception.
To date, the RWC Team has:
Spent 38,086 Man Hours
Installed 24,958 Steel Studs
Installed 469,826 Sqft of Gypsum Wall Boards
Installed 47,500 Sqft of Acoustic Ceiling Tiles
These figures are a testament to the hard work and dedication of our team, and we are proud of the progress made so far. The progress we have made so far is only the beginning. We look forward to sharing more updates with you as we continue to transform this iconic building.