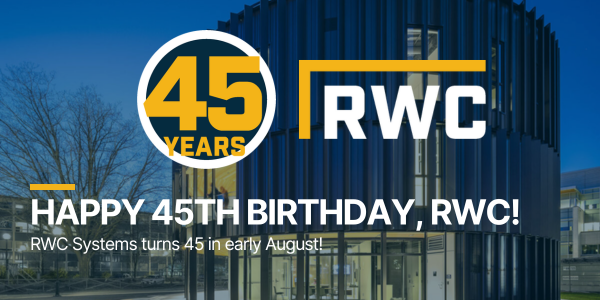 In 1978, a dream was starting to take shape. He might not have known it yet, but our founder, Garth Roberson, was about to embark on a journey that wasn't merely about constructing walls and ceilings, but about shaping skylines, crafting interiors, and laying down a legacy.
Over the past 45 years, our expertise has grown, but our core values have remained steadfast: dedication to craft, attention to detail, and an unwavering commitment to quality.
As we stand on the threshold of our Sapphire anniversary, it's a moment to reflect, cherish, and celebrate every project, every challenge, and every triumph. Journey with us as we walk down memory lane, exploring a timeline that spans four and a half decades of excellence, innovation, and unwavering commitment.
Join us in this nostalgic trip, as we proudly showcase our story from inception to date.
<! ========= Cool Timeline Free 2.7 =========>
RWC Systems History
Garth Robertson Incorporates 'Robertson Construction Ltd.'
At 19 years of age, 2nd-year apprentice taper, Garth Robertson, incorporates "in case the business grew"
First drywall contract awarded for a custom home
Awarded drywall contract for first subdivision of "EconoHomes' after the housing market crash of 1981.
Moved the material storage from the garden shed to a large new garage
Purchased first fleet vehicle
First commercial warehouse contract of steel stud drywall & T-bar
Moved office & warehouse to a new building on Mitchell Island for our first corporate office
First large office tenant improvement project awarded
Transitioned out of residential projects to 100% commercial projects
Starting with some well known brand like: YVR International Terminal, CARA Brands, Stuart Olson Construction & Cactus Club
Awarded Contract for Summit Lodge Boutique Hotel Whistler
90-suite hotel in Whistler for Scott Construction Ltd.
Awarded Willingdon Park office buildings contract
Awarded contract for three buildings in Willingdon Park for Stuart Olson, exteriors & interiors
Hired First full-time Estimator
Adding to the office staff of three
Rodney & Larry join the office team
Two eldest sons, join the office team as Project Managers
Awarded contract for Vancouver Olympic HQ
Leading to many additional Olympic venues
Rebuilt Robertson Walls & Ceilings brand
Started strategic business coaching after the Global Financial & Crisis
RWC doubles in size from previous year and continues growing
Achieved First COR Certification with 96%
Awarded the first significant out-of-town project with Harbour Towers in Victoria
Awarded Royal Columbian Hospital contract
Officially Rebranded again to RWC Systems Inc.
Awarded New St Paul's Hospital Contract
RWC Systems Turns 45!
Currently, 30 in-office staff and managing over 200 plus site workers.