Partner

PCL Construction

Timeline

March 2020 – Dec 2022

Number of staff involved

Up to 65

Project Type

Commercial Building
Modernizing a Canadian Heritage Icon
The Post Vancouver is a mid-century landmark that has undergone a substantial transformation to include two modern sister towers. This landmark project was the first of its kind and required RWC Systems to preserve the old heritage exterior while constructing two new independent highrises in this project.
RWC Systems provided all the framing, drywall top finishes and more for one of the most ambitious heritage redevelopments in Canadian history.
PCL Construction chose to partner with RWC Systems on this project due to RWC's ability to handle a project of this size while remaining on schedule. Previous partnerships such as the YVR Pier D Expansion demonstrated to PCL that RWC delivers exceptional high-quality work while remaining on time and budget.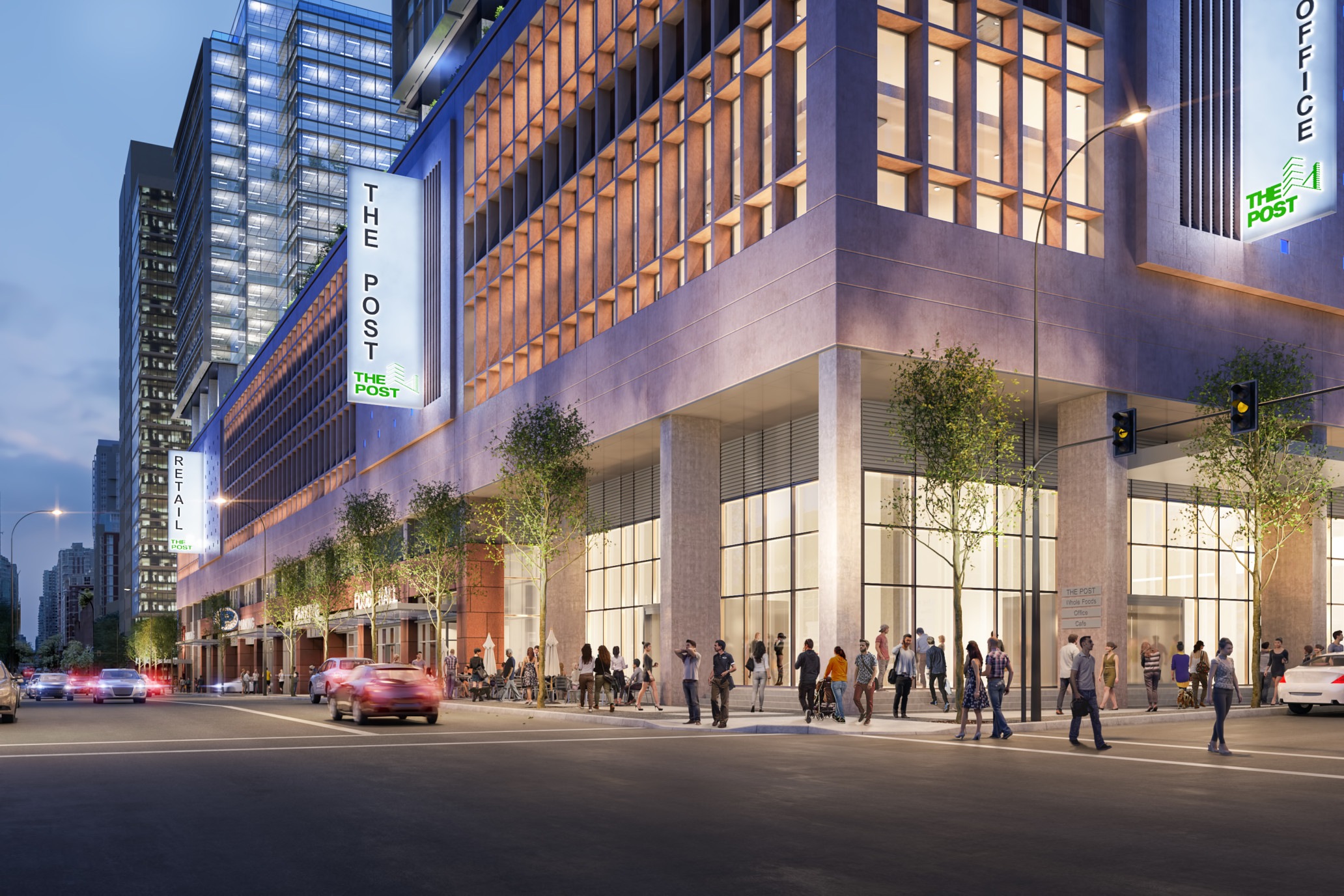 Vision
To revive an Iconic Canadian heritage building through extensive renovations while adding two twin towers was a huge undertaking.
Furthermore, high-quality renovations for this project is expected to set the standard for future large-scale heritage commercial buildings.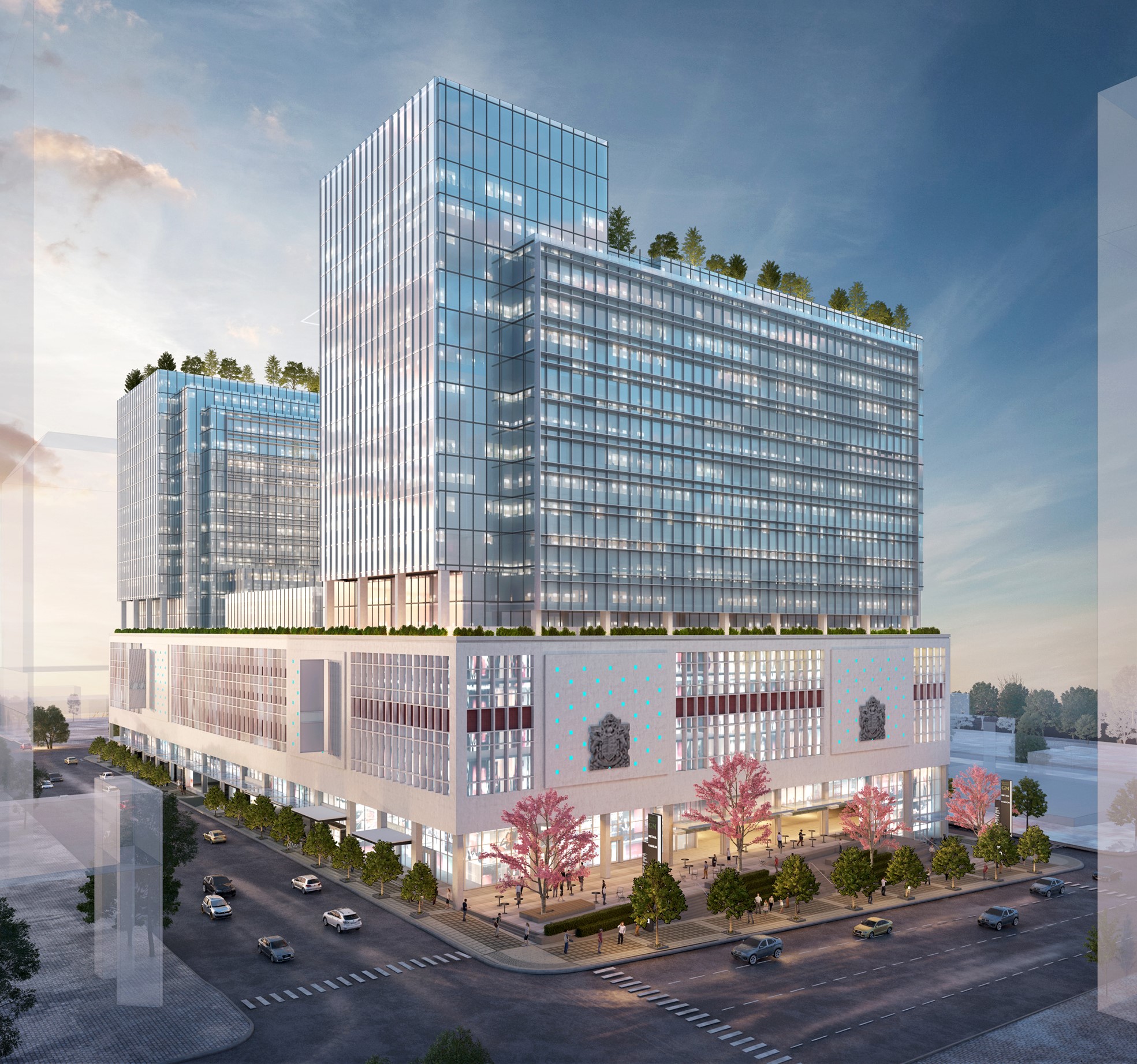 Honouring heritage finishes and walls
The Post's unique historical architectural finishes needed replication during renovations to maintain heritage status. For this to happen, a piece of existing stucco wall material needed to be analyzed by RWC's suppliers to match the existing exterior measured framing to work with the new material.
Hardi Panel Walls
To reduce cost but keep the durability of materials in the parkades, Hardi Panel Walls were used to replace the more expensive original metal panel systems. The material choice showed off a modern design, removing any indication of screws or hardware on the panels.
Entrance Metal Panel Ceilings
High-end metal panel ceilings are on display at the entrance of the building that blends a heritage front with the new metal-bound ceiling. The Post project complements historical architecture with modern engineering and renovations.
Speciality Artistial Skillset
RWC Systems was able to provide an experienced specialty drywaller to replicate the original textured drywall effect for The Post.
This was integral in creating the seamless walls in the underground parking and blending of the exterior ceilings.
Size of Project
The Post building is an impressive 1.1 million sq ft structure covering a whole city block in Downtown Vancouver. The physical footprint of The Post is hard to miss in Vancouver's Downtown Core.
Why RWC Systems?
Complexity Delivered

Creative designs mean complex construction. RWC Systems's experience with complex and out-of-the-ordinary projects allows your most creative structure to come to life on time and on budget.

No rework needed

Remove the hassle and operation nightmare of having to redo work. Our expertise, high attention to detail and structured quality assurance allows our renovations and builds to be executed correctly, the first time, every time.

Established in 1978

RWC Systems has been delivering high end construction work for over 40 years. This provides RWC an unparalleled amount of expertise to execute even the most challenging of projects

Capacity to Execute

High trained, experienced and skilled. The staff and workers at RWC Systems have executed projects that included hundreds of rooms, required thousands of man hours and had millions of details.
Have an Upcoming Project?
Contact us or fill out our Budget Project Calculator to get a project estimate in minutes.