Timeline

March 2020 – Dec 2022

Number of staff involved

Up to 35

Project Type

Commercial Building
Sophisticated and Unique
Bosa Waterfront offers a unique workplace experience, combining stunning views, flexible spaces and next-level lifestyle amenities in an iconic, vertical form. From the expansive triple-height lobby to the unmatched amenity spaces above, this sculptural glass tower will become an icon on the Vancouver skyline.
RWC Systems delivered the interior and exterior lobby ceilings, the acoustic interior walls, interior ceilings, and wood panelling for this next-generation upscale commercial building.
RWC delivered multiple features throughout Bosa Waterfront that stand out including unique finishes in the lobby, boardrooms, rooftop, and more.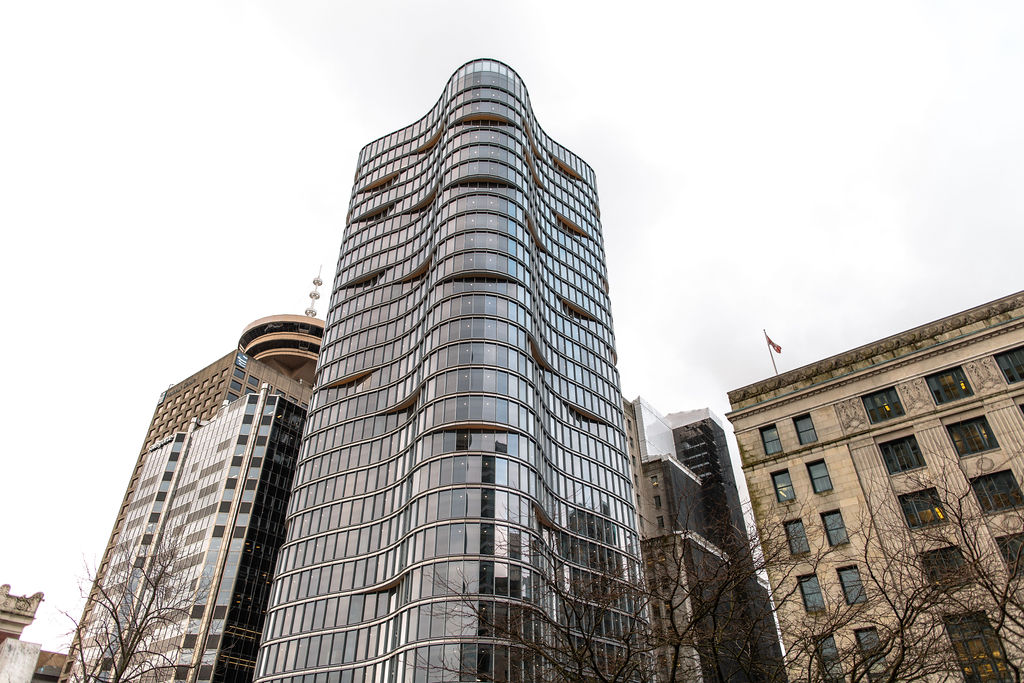 Lobby

This space is noticed first by visitors, so it needed to make a strong impression. A Venetian plaster material was chosen for the lobby to give the area a unique texture with a marble-like finish.

Rooftop Social Lounge

The rooftop has a breathtaking unobstructed view of the North Vancouver Mountains. Complete with partial wood panel walls integrated with greenery to make the space feel airy and elegant.

Meeting Rooms

The acoustic wood panels allowed minimal travel noise between meeting rooms to optimize space and decrease distraction.

Unique Ceilings

The project included a durlum loop ceiling feature which used magnets to hold panels in place. Unlike typical fasteners, the magnetic fasteners are out of sight, giving the ceiling an elegant, and seamless finished look.
Why RWC Systems?
Complexity Delivered

Creative designs mean complex construction. RWC Systems' experience with complex and out-of-the-ordinary projects allows your most creative structure to come to life on time and on budget.

No rework needed

Remove the hassle and operation nightmare of having to redo work. Our expertise, high attention to detail and structured quality assurance allows our renovations and builds to be executed correctly, the first time, every time.

Established in 1978

RWC Systems has been delivering high end construction work since 1978. This provides RWC an unparalleled amount of expertise to execute even the most challenging of projects

Capacity to Execute

High trained, experienced and skilled. The staff and workers at RWC Systems have executed projects that included hundreds of rooms, required thousands of man hours and had millions of details.
Have an Upcoming Project?
Contact us or fill out our Budget Project Calculator to get a project estimate in minutes.